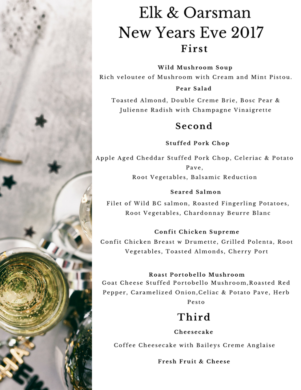 Ring in the New Year in with us at The Elk & Oarsman and enjoy a:
Three Course Dinner
Live Entertainment by Andyloops
Champagne at Midnight
$10 off Voucher for our Famous Hair of The Dog Brunch from 10am to 1pm. (All Tickets Include This)
We have three different types of tickets to purchase:
1. Early Seating Dinner 6pm – 9pm $40 Minors Welcome
Guests are asked to arrive at 6pm & will be asked to move into the pub after their dinner so we can get ready for the later sitting.
2. Late Seating Dinner 9pm – Close $60 No Minors
Guests are asked to arrive at 9pm and can hold onto their tables for the remainder of the evening and can join the pub side to enjoy the entertainment but can also come back to their tables to to rest or have some quite drinks.
3. Party Ticket $10
The pub will be open at 7pm for any guests that wish to come & celebrate the new year with us. There is no guaranteed seating or reserved seating for this option we will have a small menu available.
Minors
Minors are welcome at the 6pm Dinner Seating and in the pub but are asked to leave the premises at 10pm.
To reserve or book your place please send an email to elkandoarsman@shaw.ca or call us at 403-762-4616.